News — west kelowna wineries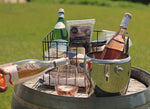 Perhaps one of the not-so-best-kept secrets of Okanagan wine country is the dreamy and glorious picnic areas that a host of wineries offer. With the current cost of living limiting many people's ability to dine out while on vacation, picnic areas offer an a less costly alternative to the full-on restaurant experience... and it can be just as magical. The Mt. Boucherie tasting room is equipped with a wide variety of meats, cheeses, crackers, and spreads that guests are able to purchase and enjoy either on designated picnic tables or simply on a lawn blanket while overlooking the stunning lake...
---
Tags:

best kelowna restaurants, best kelowna wineries, best kelowna winery restaurants, best okanagan wineries, best west kelowna restaurants, best west kelowna wineries, kelowna restaurants, kelowna wine tours, kelowna wineries, kelowna winery restaurants, okanagan wine tours, okanagan wineries, west kelowna restaurants, west kelowna wineries, west kelowna winery restaurants
It's all happening. It's been a blazin' summer up here in the Okanagan and Similkameen, and we're starting to see the literal fruits of our labour begin to form. Pictured above is Gewürztraminer as of this morning from our Mt. Boucherie Estate Vineyard in West Kelowna, a splash of which goes into our *ahem* 92-point Wine Align Gold Medal winning Rosé. With very little precipitation, no smoke or fires to speak of (yet?!), and temperatures that have been warm but not so scorching that vines have shut down, things are on track for a healthy season...for now. We all know this...