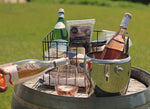 Perhaps one of the not-so-best-kept secrets of Okanagan wine country is the dreamy and glorious picnic areas that a host of wineries offer. With the current cost of living limiting many people's ability to dine out while on vacation, picnic areas offer an a less costly alternative to the full-on restaurant experience... and it can be just as magical.
The Mt. Boucherie tasting room is equipped with a wide variety of meats, cheeses, crackers, and spreads that guests are able to purchase and enjoy either on designated picnic tables or simply on a lawn blanket while overlooking the stunning lake vistas. Games like bocce and cornhole are available to those with a playful or competitive edge. 
Of course, the value of opting for a picnic over a traditional dining experience is that guests are able to purchase bottles of wine at the retail price, which allows even small groups to enjoy a couple of different bottles if they so choose without breaking the bank. 
Even better, there's always loads of space on the lawn and since service isn't formally required, it's rare that you won't be able to find a spot to enjoy some snacks, bevvies, games, and views. 
The winery picnic is a true Okanagan life hack!