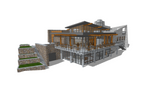 Mt. Boucherie Estate winery was purchased in 2016 from one of BC's historic wine families.  The winery and 200 acres of vines were acquired with the vision of taking the winery experience and vineyards to the next level. Leading this dream is a team with decades of experience in the B.C. food and wine industry.
In late summer 2019, a brand-new wine experience centre overlooking the lake will be completed on its hill atop of Lakeview Heights.  The aim is to make this property one of the crown jewels of the BC wine industry with a focus on a relaxed, yet professional service of world-class food and wine.
Guests can expect to walk into an open-concept tasting room where you can decide between partaking in a casual tasting at the bar, a Rosé picnic, or private, sommelier-guided experience. The upstairs lounge & restaurant will provide a relaxed dining experience for visitors.
Looking to stay in the area overnight? The new Mt. Boucherie will also include a luxury bed and breakfast (2020) for guests who are looking to spend more time in the region and to take their time experiencing all the winery and Okanagan have on offer.  The whole idea is about every guest enjoying the new experience centre at their own pace and budget.
With this new expanded space and vision, Mt. Boucherie hopes to welcome visitors from around the world to experience our incredible region. The renovations are set to be complete by September of 2019, but wine lovers can still enjoy the tasting room at Mt. Boucherie all year round leading up to the big opening!