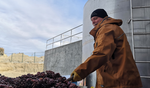 Mt. Boucherie Estate Winery is proud to announce the appointment of Jeff Hundertmark as their new Head Winemaker. Having been the Winemaker at sister-winery Rust Wine Co. since January 2018, Jeff will now be overseeing winemaking operations for both properties and is recruiting a Winemaker to oversee day-to-day operations at Rust in Oliver.
An award-winning Winemaker and Sommelier, Jeff relocated to B.C. in 2017 after an illustrious career in Ontario including Marynissen Estate Winery and Stoney Ridge Estate Winery where he was able to produce Estate wines as well as the successful celebrity brand for the Tragically Hip and his own label 100Marks.
"We are extremely excited to appoint Jeff as our new Head Winemaker at Mt. Boucherie," remarks Craig McCulloch, VP and CEO. "Not only is he an incredibly talented winemaker, but his passion for the industry and for sharing his knowledge with his staff make him a true pleasure to work with."
The appointment of Jeff as Head Winemaker is one of many exciting developments in 2019 for Mt. Boucherie Estate as construction is under way for an expanded tasting room and new winery restaurant set to open this fall. The expansion also comes with increased cellar capacity at the winery and, while loyal fans can expect the consistent, quality wines that Mt. Boucherie Estate has become known for, Jeff does plan to introduce more innovation into the winemaking program including skin-contact Gewürztraminer and Pinot Gris and a fresh Chablis-style Chardonnay.
"I am excited for what the future brings for our team," notes Jeff. "We have a fresh, young team who are bursting with excitement and enthusiasm. I am so proud to be teaching the next generation of winemakers and showing them minimal-intervention winemaking that truly lets the grape and our amazing terroir shine."
The first releases from Jeff and his team are being bottled this week and are expected to be available in April.  For more information and to stay up-to-date on our construction and wine release dates, follow us on Facebook and Instagram.